Health Benefits
Despite its reputation as a high-cholesterol food, lobster has several redeeming nutritional qualities that offer a host of health benefits.
Supports Immune System Function
Lobster is an abundant source of zinc, a crucial mineral linked to immune function. While a severe zinc deficiency causes known immune dysfunction, even minor zinc deficiencies impair lymphocyte production and suppress immune responses. Poor zinc status is associated with higher rates of infection and pneumonia.4
 A 1 cup serving of lobster has almost 6 milligrams of zinc, meeting 67% the daily requirement for women and 56% for men.
Canadian Wild Catch Cooked Lobster (MSC CERT) / 冷冻加拿大野生熟龙虾 (MSC证书)
100% Preservatives Free / 绝无防腐

Origin: Canada 加拿大

Glazing: 0%

Packing Size: 350gm+-/ nos

Storage: Keep frozen at -18 degree Celsius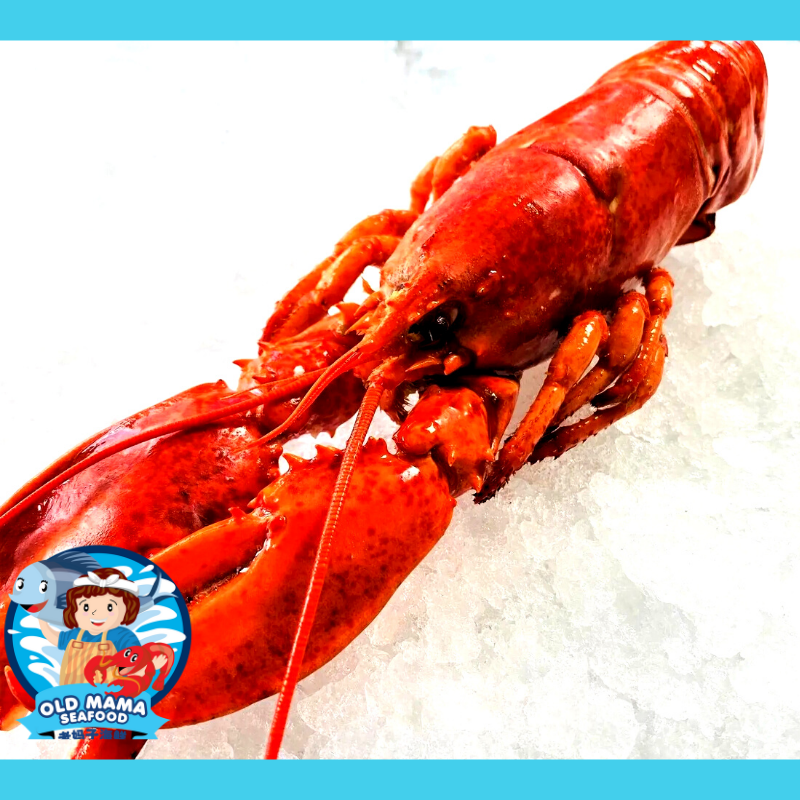 ---
## We Deliver to Whole Peninsular Malaysia, But Some of The Area We Still Unable to Cover Yet.
## For places EXCLUDE Kuala Lumpur and Selangor , Please kindly CHAT with Us Before Placing Your Order.
[[ Seafood deliver to your doorstep at reasonable price ]]
Spend RM200 and above, We Give Away 6 Benefits To You!!!
Free Membership ( Automatically)

Spend Rm200 Free Shipping Within KL and Selangor

Member 2% Discount on Subsequent Order (Pls Chat With Us to Get The Voucher)

Lucky draw

Accumulate Rm500 Purchase Free 1nos Lobster or Same Value Seafood Within 30days (Please write in the remarks)

Free 1 Year Total 12 Variety Seafood

(Example: Golden Pomfret, Shrimp Paste, Siakap, Boiled Hotate,Baby Scallop, Asari etc… Depend On The Stock Availability Of That Particular Period ) , Giving Out Every Months for 12 Months , Start Following Month.
In the Following Month, We will start send out the Gift Keyword to your handset , it can be claim through following options:
You can go to our store in Kepong to take the free gift
pay the courier fee + Packing fee
RM20 for KL & Selangor
RM40 for OUTSIDE KL & Selangor
purchase seafood from us, then on the remarks please write the Keyword, we will deliver the free gift together with your purchase
Transport Fee
Kuala Lumpur and Selangor :
Minimum Store Checkout = Rm80.00

Below RM200=RM15.00

Above Rm200= Free Delivery
Outside KL & Selangor :
Minimum Store Checkout =RM150.00

Below RM300=RM25.00

Above Rm300= Free Delivery
Important Delivery Notice:
We have our own delivery team,however, we will also engage third party transporter to deliver on behalf on us.
#During Non-Peak Session, all parcel estimated taking 2 working days to ship out.
#During Peak Session, all parcel estimated taking 2-4 working days to ship out.
#Daily cut off time: 2pm
重要运输提醒:
我们有本身的运输团队,可是我们也会雇佣第三方的运输,类似私人运输之类的。
#在普通淡季,包裹通常会在两天内送出。
#在繁忙订单暴增季节,包裹通常会在2-4天内送出。
#每天的收取订单时间以2pm为准。
*Terms and Conditions Apply
*须符合条规和附带条件