Are there any health benefits?
Fish maw is a good source of collagen, calcium, improves blood circulation, helps in speeding up the recovery of wounds and nourishes the lungs
It is so high in collagen high that they are also used in the food industry as a source of collagen
Fried Fish Maw
Fried fish maw or 沙爆魚肚 or 油炸魚肚 looks white and puffy. In the 沙爆 or "sand exploded" method, dried swim bladders are continuously stirred in hot sand until it becomes white and expanded. 油炸 or "oil fried" is simply deep frying dried fish maw to achieve the same puffy results
It is also recommended for plated dishes because it can reconstitute quickly, absorbs sauce easily and gives a delightful spongy texture to the dishes. A popular soup recipe (often served at banquets) is fried fish maw thick soup or "fish maw gung."
Dried Fish Maw
Dried fish maw or 黃花膠 usually comes from croaker(双牙). Croaker fish maw has higher nutritional value and dried fish maw is better than fried maw for nourishing soups

100% Preservatives Free / 绝无防腐

Origin: 产地: Thailand 泰国

Packing Size: 100gm/pk

Storage: Keep in Dry Cool Place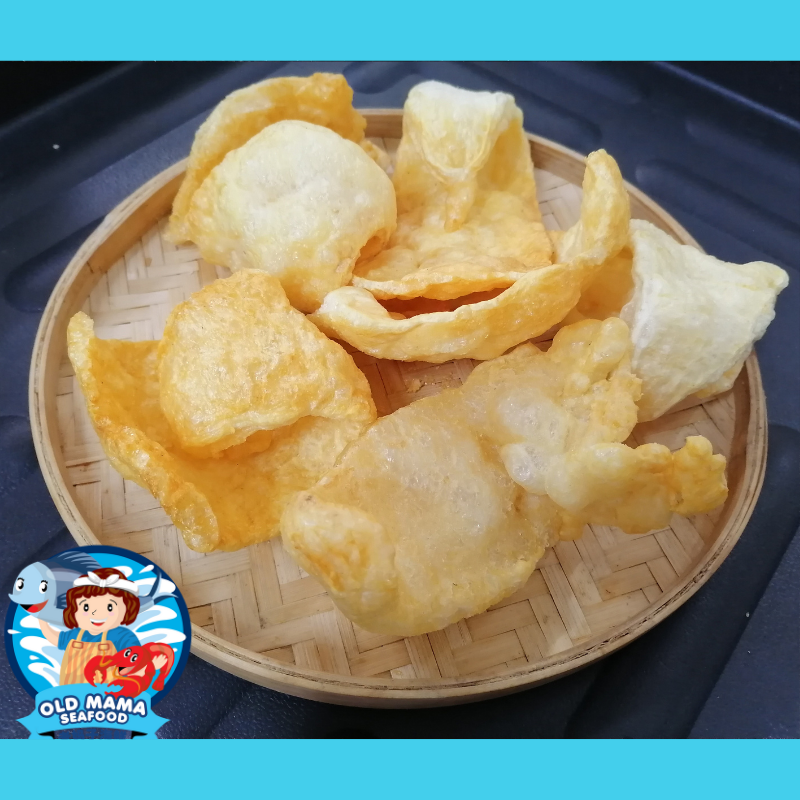 ## We Deliver to Whole Peninsular Malaysia, But Some of The Area We Still Unable to Cover Yet.

## For places EXCLUDE Kuala Lumpur & Selangor , Please kindly CHAT with Us Before Placing Your Order.
Outstation Transport Fee :
Minimum purchase RM150.00

Below RM400=RM30.00

Above Rm400= Free Delivery
[[ Seafood deliver to your doorstep at WHOLESALE price ]]
First In Malaysia, Spend RM200 and above, We Give Away 8 Benefits To You!!!
1. Free Membership
2. Free Shipping Within Klang Valley
3. Discount On Seafood(Exclude Promotion Items)
4. Member Special Seafood Discount Updated Every Month
5. Lucky Draw
6. Points
7. Accumulate Rm500 Purchase Free 1nos Lobster or Same Value Seafood (Within 1 Month)
8. Free 1 Year Total 12 Variety Seafood (Golden Pomfret, White Pomfret, Senangin, Grouper, Scallop, Asari etc… Depend On The Catching Of The Particular Period ) , Giving Out Every Months for 12 Months.
Can Self Collect, Packing & Transport Fee at Own Cost)
Transport Fee
Kuala Lumpur & Selangor :

Minimum Order Rm80.00





Below RM200=RM15.00

Above Rm200= Free Delivery
Area next day delivery: (Sunday & Public Holiday Close)
**Order place before 3pm, entitle for next working day delivery,

**Order place After 3pm, will be consider next second working day delivery.
*Terms and Conditions Apply