Alaska Wild Catch Chum Salmon (Oncorhynchus keta)
Chum, also called Keta Salmon, is a firm-textured fish with a tempting orange-pink color and delicate flavor. Chum is known for its balance of fat and oil.
Harvest Season: June thru November
Sourced: throughout Alaska, British Columbia, and Washington
Produced: at processing plants in Cook Inlet, Kotzebue, Southeast Alaska, the Seattle area, and on the Central Coast of British Columbia
Every salmon landed is: checked for protein profile and freshness,
all data stored online by vessel, date, time, so 100% traceability.
Anchored close to the fishing ground in the open sea
Freezing at minus 80°C, within 4 hours after landing.
Frozen and packed within the next 12 hours, storage barge at minus 40 °C
It is all processed very fast, which is why quality is excellent and only small boats are allowed to fish, so the quantity is not much.
Alaska Wild Chum Salmon Tail Half Cut Scale Off / 阿拉斯加野生马哈去鳞三文鱼半边鱼尾
Alaska Wild Chum Salmon Tail Half Cut Scale Off / 阿拉斯加野生马哈去鳞三文鱼半边鱼尾
100% Preservatives Free / 绝无防腐
Scale Off
Glazing: 0%
Packing Size: 4nos (0.9-1kg /Set)
Keep Refrigerated Under Minus 18 Degree Celcius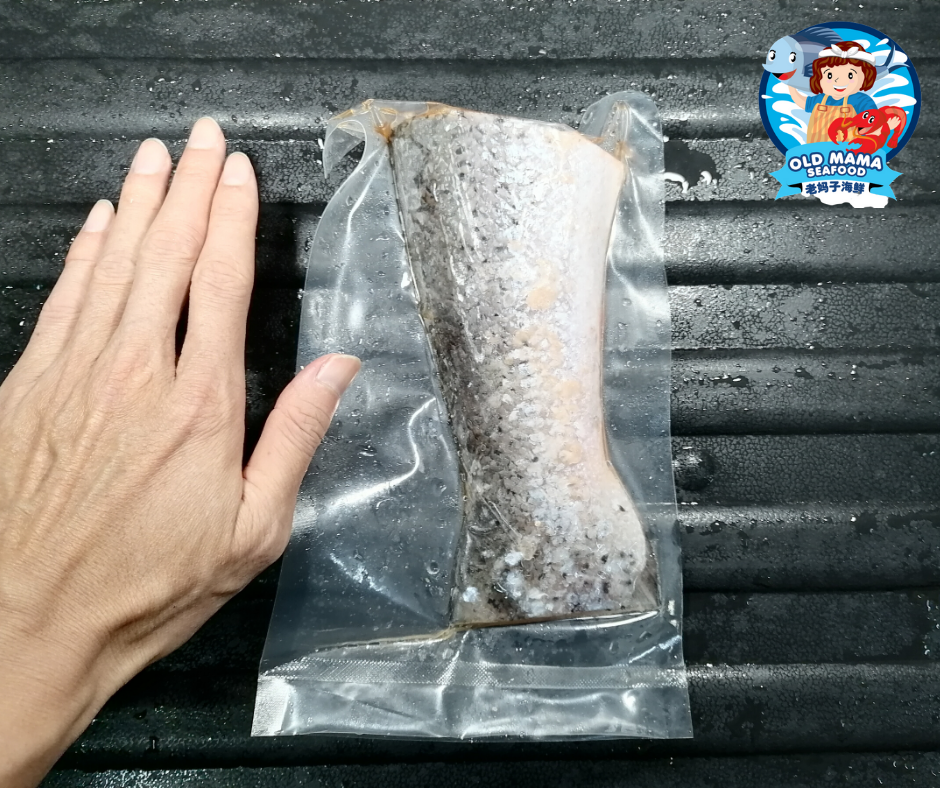 ---
## We Deliver to Whole Peninsular Malaysia, But Some of The Area We Still Unable to Cover Yet.
## For places EXCLUDE Kuala Lumpur and Selangor, please kindly CHAT with Us Before Placing Your Order.
[[Seafood deliver to your doorstep at a reasonable price]]
Spend RM200 and above. We Give Away 6 Benefits To You.
Free Membership (Automatically)

Spend Rm200 Free Shipping Within KL and Selangor

Member 2% Discount on Subsequent Order (Pls Chat

w

ith Us to Get the Voucher)

Lucky draw

Accumulate Rm500 Purchase Free 1nos Lobster or Same Value Seafood Within 30days (Please write in the remarks)

Free 1 Year Total 12 Variety Seafood

(Example: Golden Pomfret, Shrimp Paste, Siakap, Boiled Hotate, Baby Scallop, Asari, etc.… Depend on The Stock Availability Of That Particular Period), Giving Out Every Month for 12 Months, Start Following Month. (* Free Gift Only can be claimed on that particular month, cannot bring forward to next month)
In the Following Month, we will start sending out the Gift Keyword to your handset. It can be claimed through the following options:
Option 1: You can go to our Store in Kepong to take the gift
Option 2: pay the courier fee + Packing fee, RM20 for KL & Selangor, RM40 for OUTSIDE KL & Selangor
Option 3: purchase seafood from us, then on the remarks, please write the Keyword, we will deliver the gift together with your purchase
Transport Fee
Kuala Lumpur and Selangor:
Minimum Store Checkout = Rm80.00

Below RM200=RM15.00

Above Rm200= Free Delivery
Outside KL & Selangor:
Minimum Store Checkout =RM150.00

Below RM300=RM25.00

Above Rm300= Free Delivery
Important Delivery Notice:
We have our delivery team. However, we will also engage third-party transporter to deliver on our behalf.
#During Non-Peak Session, all parcels are estimated to take two working days to ship out.
#During Peak Session, all parcels are estimated to take 2-4 working days to ship out.
#Daily cut off time: 2 pm
重要运输提醒:
我们有本身的运输团队,可是我们也会雇佣第三方的运输,类似私人运输之类的。
#在普通淡季,包裹通常会在两天内送出。
#在繁忙订单暴增季节,包裹通常会在2-4天内送出。
#每天的收取订单时间以2pm为准。
*Terms and Conditions Apply
*须符合条规和附带条件