Our Sea Catch Coral Trout is Live from the Deep Sea in Sabah. Catch daily in dawn by the skillful fisherman in Sabah, actually those live fish was sell live directly to the Hong Kong, China Mainland with very high price.
鲜美的七星斑都是从沙巴的深海域活抓. 实际上,这些活鱼会以昂贵的价格卖给中国香港.
We are fortunate to have our friend in Sabah, whose can help to collect some of those live fish, help us to gill and scaling the Coral Trouts, Straight to freeze the fish at its freshest point, so the flesh are kept at its maximum freshness to maintain the quality.
我们很幸运拥有来自沙巴的朋友,他们可以协助我们收集一些活鱼,并且帮我们去除鱼鳃和鳞片后,直接将鱼冷冻,从而使鱼肉保持在最好的新鲜度与质量。
Do not miss the opportunity to taste one of the best Sabah Coral Trout in East Malaysia, only in Old Mama Seafood.
别错过品尝来自马来西亚沙巴(东马)新鲜七星斑的机会。
Sabah Live Frozen Coral Trouts Fish Head (Half Cut) 沙巴活冻鲜美七星斑鱼头半边
100% Preservatives Free / 绝无防腐

Origin: 产地: Sabah沙巴

Glazing: 0%

Packing Size: 450g-550gm/ pcs

Gutting & Scaling 除去内脏 & 鳞片

Storage: Keep frozen at -18 degree celcius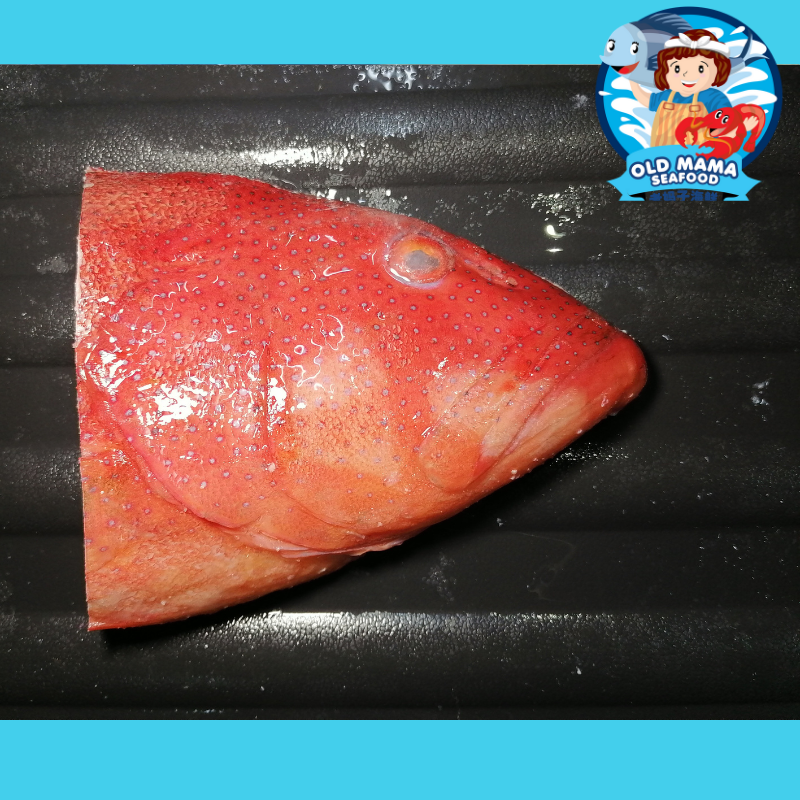 ## We Deliver to Whole Peninsular Malaysia, But Some of The Area We Still Unable to Cover Yet.

## For places EXCLUDE Kuala Lumpur & Selangor , Please kindly CHAT with Us Before Placing Your Order.
Shipping Fee :
Outstation
Minimum purchase / 最低消费: RM150.00

Below / 以下 RM400 = RM30.00

Above / 以上 Rm400= Free Delivery
Kuala Lumpur & Selangor :

Minimum Order

/ 最低消费

Rm80.00


Below

/ 以下

RM200=RM15.00
Above

/ 以上

Rm200= Free Delivery
[[ Seafood deliver to your doorstep at WHOLESALE price ]]
First In Malaysia, Spend RM200 and above, We Give Away 6 Benefits To You!!!
1. Free Membership
2. Free Shipping Within Klang Valley
3. 2% Discount On Seafood Purchase(Exclude Promotion Items)
4. Lucky Draw for Members Only
5. Accumulate Rm500 Purchase Free 1nos Lobster or Same Value Seafood (Within 1 Month)
6. Free 1 Year Total 12 Variety Seafood (Golden Pomfret, White Pomfret, Senangin, Grouper, Scallop, Asari etc… Depend On The Catching Of The Particular Period ) , Giving Out Every Months for 12 Months.
Can Self Collect, Packing & Transport Fee at Own Cost)
全马来西亚首创,今天消费超过RM200,送你6大福利!!!
1. 自动成为会员
2. 雪隆包邮
3. 2% 会员折扣(特价品除外)
4. 会员抽奖
5. 累计购满RM500元送一只龙虾或其它同等价值的海鲜 (1个月内)
6. 额外免费送您一年总计12种海鲜类,(金昌,白昌,马友,石斑,带子,花蛤啦啦,等等看当季有什么鱼或海鲜类),分12个月送。(可上门自取,包装费邮费自付)
Area next day delivery: (Sunday & Public Holiday Close)
**Order place before 3pm, entitle for next working day delivery,

**Order place After 3pm, will be consider next second working day delivery.
*Terms and Conditions Apply