红糖糍粑是用红糖、糯米制作的一道川渝地区传统的小吃。红糖营养丰富,释放热量快,营养吸率高,除含蔗糖以外,还含有少量的铁、钙、胡萝卜素等物质。
No way, which made me never forget the deliciousness of [Brown Sugar Rice Cake]! In order to keep it, I tried to make it at home, the finished product is not wrong, the appearance and taste are online! Today I will share the tutorial with you babies. Hurry up and hide it!
准备的食材。

糍粑切成小块。
锅里倒入油后转小火,放入糍粑半煎半炸。
煎至金黄,翻面煎炸另一面。
加入适量的红糖。(油多了就倒出来,以免太油腻)
加入少许的清水,煮至糖浆浓稠,糍粑软糯即可。
一起享用吧!
China Sichuan Traditional Rice Cake / 中国四川传统小吃红糖糍粑
Ingredients: Glutinous Rice, Drinking Water, Sugar, Bread Crumbs

Origin: China 中国

Packing: 240gm/pkt

Storage: Keep frozen at -18 Degree Celsius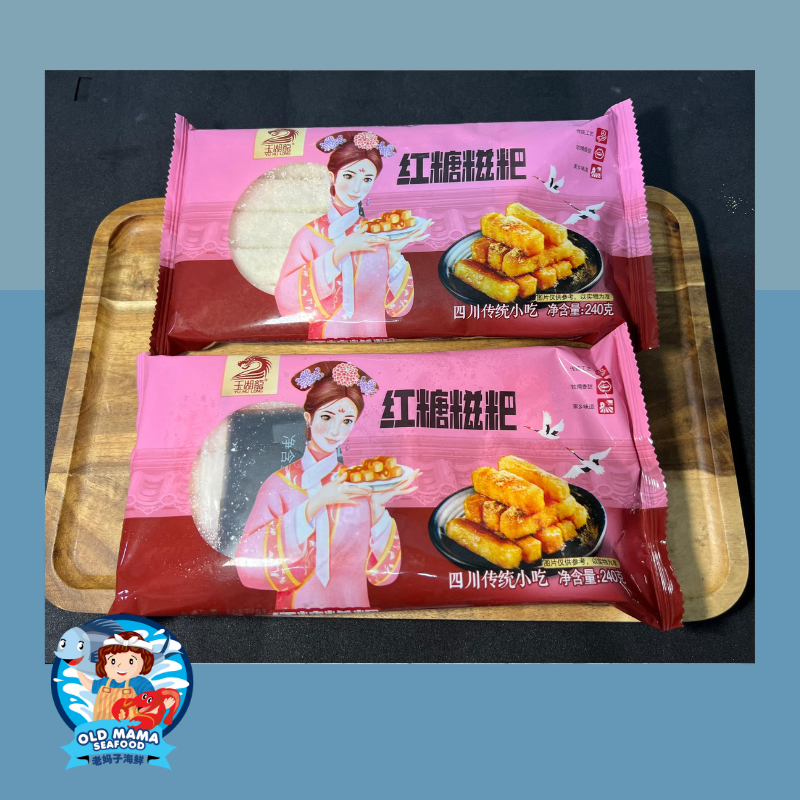 ---
## We Deliver to Whole Peninsular Malaysia, But Some of The Area We Still Unable to Cover Yet.
## For places EXCLUDE Kuala Lumpur and Selangor, please kindly CHAT with Us Before Placing Your Order.
[[Seafood deliver to your doorstep at a reasonable price]]
Spend RM200 and above. We Give Away 5 Benefits To You.
Free Membership (Automatically)

Spend Rm200 Free Shipping Within KL and Selangor

Member 2% Discount on Subsequent Order (Pls Chat

w

ith Us to Get the Voucher)

Accumulate Rm500 Purchase Variety Freegift Seafood Within 30days (Please write in the remarks)

Free 1 Year Total 12 Variety

Freegift (Example: Edamame, Shrimp Paste, Chuka Wakame, Boiled Hotate, Baby Scallop, Asari, etc.… Depend on The Stock Availability Of That Particular Period), Giving Out Every Month for 12 Months, Start Following Month. (* Free Gift Only can be claimed on that particular month, cannot bring forward to next month)
In the Following Month, we will start sending out the Gift Keyword to your handset. It can be claimed through the following options:
Option 1: You can go to our Store in Kepong to take the gift
Option 2: pay the courier fee + Packing fee, RM20 for KL & Selangor, RM40 for OUTSIDE KL & Selangor
Option 3: purchase seafood from us, then on the remarks, please write the Keyword, we will deliver the gift together with your purchase
Transport Fee
Kuala Lumpur and Selangor:
Minimum Store Checkout = Rm80.00

Below RM200=RM15.00

Above Rm200= Free Delivery
Outside KL & Selangor:
Minimum Store Checkout =RM150.00

Below RM300=RM25.00

Above Rm300= Free Delivery
今天消费超过RM200,送你5大福利!!!
免会员费,自动成为会员

雪隆区全场免邮

,

最低消费

RM200

2%

会员折扣

(

下一个订单开始,请联络我们以获得优惠卷)

30

天内消费满额

RM500

,免费赠送各种海鲜

(

请在备注写上)

额外免费送您一年总计

12种各式各样礼品

,(毛豆,虾肉,日式凉拌海带,带子,花蛤啦啦,等等看当季有什么鱼或海鲜类

),

来临的下一个月开始送,分

12

个月送

。(

*

赠品只限于当月领取,不能累积到下个月)
运输费
雪隆区:
最低消费额(不包邮费):RM 80.00
少过 RM200, RM 15邮费
超过RM 200, 免邮
雪隆区以外:
最低消费额(不包邮费):RM 150.00
少过 RM300, RM 25 邮费
超过RM 300, 免邮
Important Delivery Notice:
We have our delivery team. However, we will also engage third-party transporter to deliver on our behalf.
#During Non-Peak Session, all parcels are estimated to take two working days to ship out.
#During Peak Session, all parcels are estimated to take 2-4 working days to ship out.
#Daily cut off time: 2 pm
*Terms and Conditions Apply