Our Special Hand Made Halal Dim Sum is manufactured by our close business partner with more than 18 years experience in produce high quality Dim Sum. After 18 years in business, the owner still insist in handmade Dim Sum, as he find out the machine made Dim Sum is hardly comply with our Malaysian taste buds. All material is carefully selected to make sure the most high quality of Dim Sum to satisfy consumer appetite. All the Dim Sum were supply to major Hotels and Restaurants in Malaysia which well received by Malaysian as well as foreigner.
严选手工做的点心,粒粒都是真材实料,用手工精心制作,只要求品质做到第一,不求产量第一。厂家拥有超过18年的经验,曾经有尝试过用机器来生产,但最后放弃使用,因为机器生产出来的点心达不到老板的要求,过不了厨师级老板本身的口感。这些年来所生产的点心都卖给马来西亚各大酒店,酒楼,点心店等,深受本地人所喜爱。
Usage: 1. Remove the food from freezer and defrost and defrost for 20 minutes.
2. Open the package.
3. Then deep-fry about 6-7 minutes.
Dim Sum : Delima Ball 石柳球
Ingredients: Spring Roll Wrapping,Chicken Meat,Dried Black Wood Eye, Chinese Parsley,Spring Onion Carrot,
Seaweed and Seasoning.
Packing: 20 pcs/pkt
Halal Certified by JAKIM
Hand Made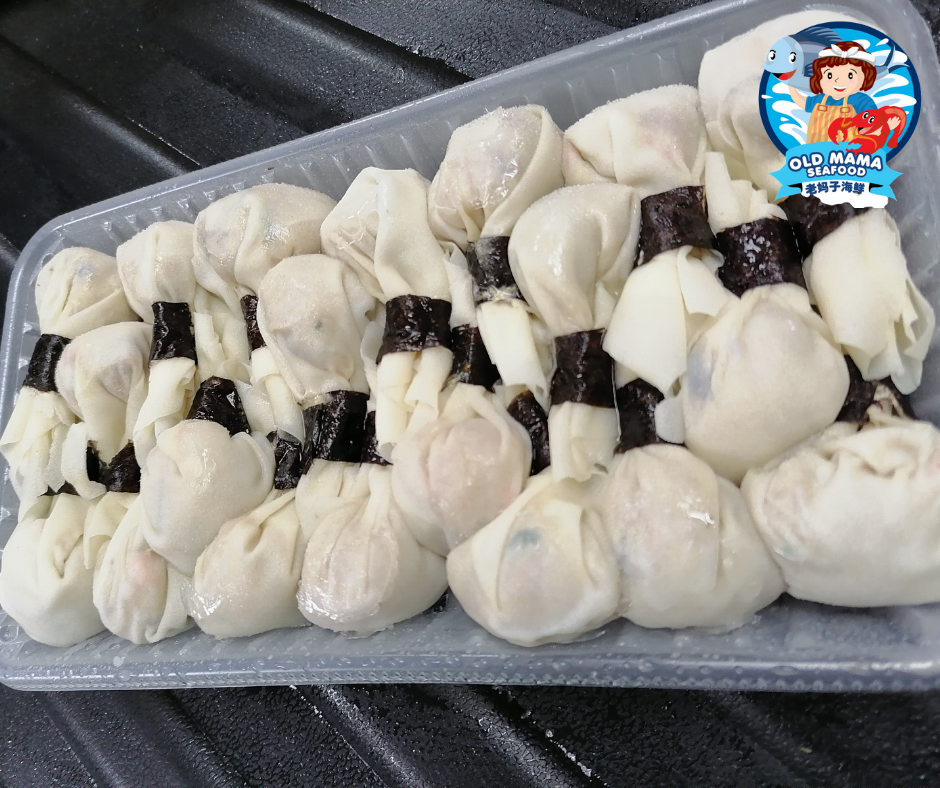 ---
## We Deliver to Whole Peninsular Malaysia, But Some of The Area We Still Unable to Cover Yet.

## For places EXCLUDE Kuala Lumpur and Selangor , Please kindly CHAT with Us Before Placing Your Order.
Outside KL & Selangor Transport Fee :
Minimum Purchase RM150.00

Below RM400=RM30.00

Above Rm400= Free Delivery
[[ Seafood deliver to your doorstep at WHOLESALE price ]]
First In Malaysia, Spend RM200 and above, We Give Away 8 Benefits To You!!!
1. Free Membership
2. Free Shipping Within Klang Valley
3. Discount On Seafood(Exclude Promotion Items)
4. Member Special Seafood Discount Updated Every Month
5. Lucky Draw
6. Points
7. Accumulate Rm500 Purchase Free 1nos Lobster or Same Value Seafood (Within 1 Month)
8. Free 1 Year Total 12 Variety Seafood (Golden Pomfret, White Pomfret, Senangin, Grouper, Scallop, Asari etc… Depend On The Catching Of The Particular Period ) , Giving Out Every Months for 12 Months.
Can Self Collect, Packing & Transport Fee at Own Cost)
Transport Fee
Kuala Lumpur and Selangor :
Minimum Purchase Rm80.00

Below RM200=RM15.00

Above Rm200= Free Delivery
全马来西亚首创,今天消费超过RM200,送你8大福利!!!
1. 自动成为会员
2. 雪隆包邮
3. 会员折扣(特价品除外)
4. 每月不停更新会员专区的海鲜爆款折扣
5. 参与抽奖
6. 每消费1元,就积1分
7. 累计购满RM500元送一只龙虾或其它同等价值的海鲜 (1个月内)
8. 额外免费送您一年总计12种海鲜类,(金昌,白昌,马友,石斑,带子,花蛤啦啦,等等看当季有什么鱼或海鲜类),分12个月送。(可上门自取,包装费邮费自付)
雪隆运输:
最低消费额:

RM 80.00

少过

RM200=RM15

,

超过

RM200,

全免
Area next day delivery: (Sunday & Public Holiday Close)
**Order place before 3pm, entitle for next working day delivery,

**Order place After 3pm, will be consider next second working day delivery.
*Terms and Conditions Apply