Carefully selected quality Sabah Vannamai Prawn. Nice & delicious!
嚴选沙巴优质南美洲白虾。无论中式热炒或是日,英式煎蒸煮都非常美味!
真空小包装,轻易又方便!
家庭式包装,让你的冰箱还有多多空位!
这种中等只的白虾,一餐一包刚刚好, 适合两个到三个人的分量!
##Please Read Carefully Before You Purchase!!
##购买前,请详细阅读!!
No Chemical Sabah Vannamai Prawn Was Blast freeze under low temperature up to -40 degree Celsius. It Is strongly recommend NOT to defrost the prawn and cook!
沙巴南美洲白虾,是用低温,达到 -40 度来快速冷冻的,
所以我们建议不需要解冻就可以直接拿去煮了
The Proper step in preparing the Frozen Vannamai Prawn:
Boiling the water

Straight away take out from your fridge, use running water to wash until the Vannamai Prawn separate one by one ( roughly 1 minute)

straight put the

Vannamai Prawn

into the boiling water

The Vannamai Prawn will float up after it was cooked.

Immediately take out the Vannamai Prawn from the boiling water (Over cook will result from the prawn flesh become soft or broken)
正确煮冷冻南美洲白虾的方法
把开水煮滚

直接从冰箱拿冷冻白虾出来,用自来水冲到虾与虾之间分开

,

不需要让虾解冻。

直接把虾放进热水中煮

虾熟后会浮起来,

快速把虾捞起(煮过时的虾会导致虾肉变软)
Sabah Vannamai Prawn / 沙巴南美洲白虾
100% Preservatives Free / 绝无防腐
Origin: Sabah
Export Quality
Gross Weight: 600gm+-/pack
Net Weight: 500 gm/pkt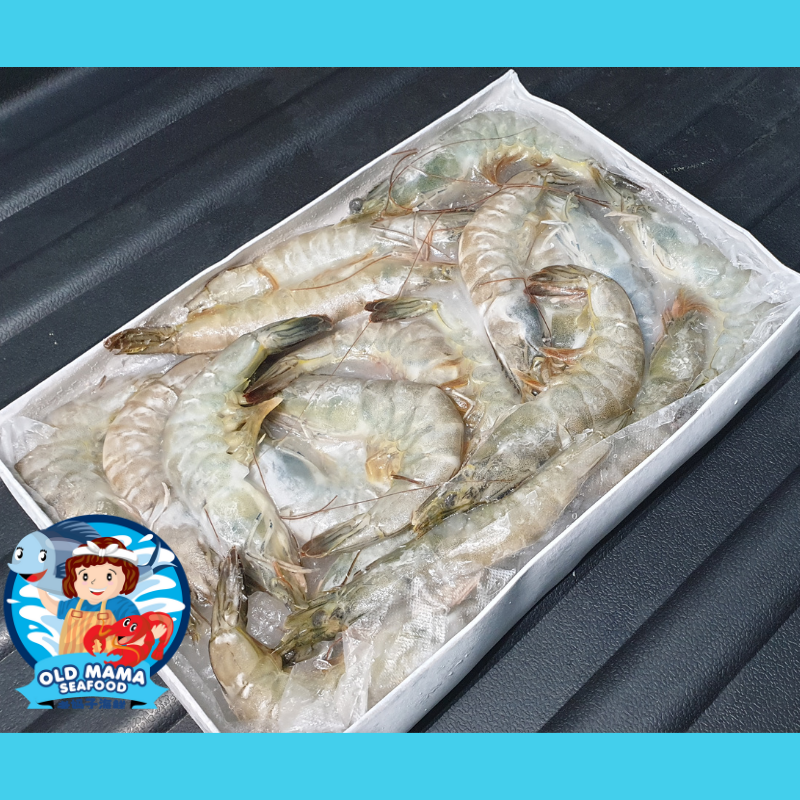 ---
## We Deliver to Whole Peninsular Malaysia, But Some of The Area We Still Unable to Cover Yet.
## For places EXCLUDE Kuala Lumpur and Selangor, please kindly CHAT with Us Before Placing Your Order.
[[Seafood deliver to your doorstep at a reasonable price]]
Spend RM200 and above. We Give Away 5 Benefits To You.
Free Membership (Automatically)

Spend Rm200 Free Shipping Within KL and Selangor

Member 2% Discount on Subsequent Order (Pls Chat

w

ith Us to Get the Voucher)

Accumulate Rm500 Purchase Variety Freegift Seafood Within 30days (Please write in the remarks)

Free 1 Year Total 12 Variety

Freegift (Example: Edamame, Shrimp Paste, Chuka Wakame, Boiled Hotate, Baby Scallop, Asari, etc.… Depend on The Stock Availability Of That Particular Period), Giving Out Every Month for 12 Months, Start Following Month. (* Free Gift Only can be claimed on that particular month, cannot bring forward to next month)
In the Following Month, we will start sending out the Gift Keyword to your handset. It can be claimed through the following options:
Option 1: You can go to our Store in Kepong to take the gift
Option 2: pay the courier fee + Packing fee, RM20 for KL & Selangor, RM40 for OUTSIDE KL & Selangor
Option 3: purchase seafood from us, then on the remarks, please write the Keyword, we will deliver the gift together with your purchase
Transport Fee
Kuala Lumpur and Selangor:
Minimum Store Checkout = Rm80.00

Below RM200=RM15.00

Above Rm200= Free Delivery
Outside KL & Selangor:
Minimum Store Checkout =RM150.00

Below RM300=RM25.00

Above Rm300= Free Delivery
今天消费超过RM200,送你5大福利!!!
免会员费,自动成为会员

雪隆区全场免邮

,

最低消费

RM200

2%

会员折扣

(

下一个订单开始,请联络我们以获得优惠卷)

30

天内消费满额

RM500

,免费赠送各种海鲜

(

请在备注写上)

额外免费送您一年总计

12种各式各样礼品

,(毛豆,虾肉,日式凉拌海带,带子,花蛤啦啦,等等看当季有什么鱼或海鲜类

),

来临的下一个月开始送,分

12

个月送

。(

*

赠品只限于当月领取,不能累积到下个月)
在来临的下一个月,我们会发送礼物名字到会员的手机上,您可以通过以下的方法来获取礼品:
选项

2

:

KL & SELANGOR =

付邮费

RM20

我们寄给你

,

KL & SELANGOR

境外

=

付邮费

RM40

我们寄给你
选项

3

:在

Old Mama

购买任何食品,备注写上当月礼品名字

,

我们会把赠品一起送上
运输费
雪隆区:
最低消费额(不包邮费):RM 80.00
少过 RM200, RM 15邮费
超过RM 200, 免邮
雪隆区以外:
最低消费额(不包邮费):RM 150.00
少过 RM300, RM 25 邮费
超过RM 300, 免邮
Important Delivery Notice:
We have our delivery team. However, we will also engage third-party transporter to deliver on our behalf.
#During Non-Peak Session, all parcels are estimated to take two working days to ship out.
#During Peak Session, all parcels are estimated to take 2-4 working days to ship out.
#Daily cut off time: 2 pm
重要运输提醒:
我们有本身的运输团队,可是我们也会雇佣第三方的运输,类似私人运输之类的。
#在普通淡季,包裹通常会在两天内送出。
#在繁忙订单暴增季节,包裹通常会在2-4天内送出。
#每天的收取订单时间以2pm为准。
*Terms and Conditions Apply
*须符合条规和附带条件